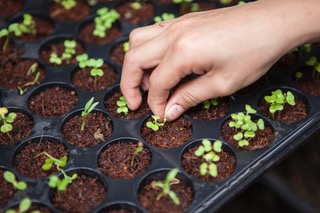 Racing heart and shallow breathing compete with agitation. I'm wide awake at 2:45 AM.  
I NEED to buy a propane camp gas stove – NOW!
"How am I going to cook without a stove or power?"
Even crazier . . . .
I get out of bed and start online searches for camp stoves – predominantly the ones I've coveted from my fellow camper and boater friends.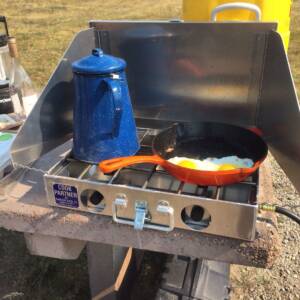 Panic and dispiriting fear coalesce into fuel likely to melt my plastic credit card.  The burn to spend lights a flame that fills Amazon and REI shopping carts.
Not one who is generally prone to anxiety or unfounded fear, these emotional reactions signal how the COVID-19 (coronavirus) pandemic and shifting daily changes are worming into my psyche.   
I've shifted from cavalier to cautious to deep distancing.
Luckily, the second cup of coffee kicks in and circulates high octane, oxygenated blood back into my brain. By morning light, rationality and calm pulse through my varicosed veins.  Yep, another reason for concern – by virtue of my September birthday, I've entered the cusp of the "at risk" age group. 
In the thin veil of morning, I rediscover the gift of a brand-new day. As the sun rises, I empty the virtual shopping carts. As robins sing, I am reminded that spring is here. 
The brilliance of color from spring flowers – purple crocus, pink and red bleeding hearts, yellow daffodils, rainbow-colored tulips – announces that nature, while appearing dead, is very much alive and well.  Perhaps remembering this can plant seeds of calm and security in my life today when the feel of winter dormancy weighs heavily on my shoulders and in my heart.  
So today, just as my grandparents did every spring, I plant seeds.  These seeds are not from a Burpee seed catalog, will not be tilled in deep, rich loam soil, nor guided by The Farmer's Almanac.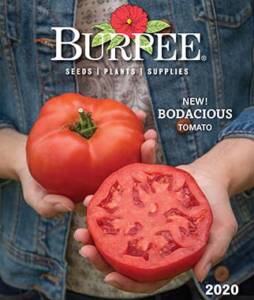 I'm planting seeds in my soul, my mind, and my physical being.
In lieu of the Burpee catalog, my inspiration comes from The ONE Thing: The Surprisingly Simple Truth Behind Extraordinary Results by Gary Keller and Jay Papasan. Here's the focusing question and premise . . . 
"What's the ONE thing I can do such that by doing it 
everything else will be easier or unnecessary?"
Keller's question and its nuances are a prodigious starting point for determining what seeds to plant. It is as inspirational as the colorful photos and descriptions in the Burpee catalog. 
What is the ONE thing I CAN DO to nurture my soul? 
What is the ONE thing I CAN DO to enlighten my mind? 
What is the ONE thing I CAN DO to fortify my physical well-being?
Determining which seeds to plant is followed by decisions of how, when, and where to plant. For my grandma and grandpa, a portion of their guidance and advice came from The Farmer's Almanac – rich with weather forecasts, life advice, and recipes.
A plethora of authors, people, and life experiences provide the context and guidance for the seeds I plant.  I've been thinking in bets, putting first things first, experiencing a year of yes, getting things done, and braving the wilderness thanks to Annie Duke, Stephen Covey, Shonda Rhimes, David Allen, and Brene' Brown. 
With family and friends, I share humor, love, and grief as a means of navigating matters of the heart. Introspection with authenticity, courage, and vulnerability (thanks Brene'!) seems to supply the suitable context for growth and the bountiful fruit of connection.
To truly germinate and bear fruit, seeds require environmental conditions that support the stages from germination to full maturity.  In life, per Og Mandino in The Greatest Miracle . . . .
"The most difficult tasks are consummated, not by a single explosive burst of energy or effort, but by CONSISTENT, DAILY APPLICATION of the BEST you have WITHIN YOU."
Each of us is always doing something.  That something chains one action to another forming habits.  The habits I cultivate are the fertile ground for my soul, mind, and physical being.  
As anyone who has planted a garden or flower bed knows, weeds slither into these fertile spaces.  
As I nurture, enlighten, and fortify, I prudently and judiciously eradicate the weedy things. I am mindful that negativity, fear, anxiety, isolation, and gluttony are double-edged swords – like dandelions.  Often viewed as a terrible weed in groomed lawns, dandelions also have medicinal properties. Discernment is a sign of wisdom.  
While earthworms are vital to plant soil, the "worm" in my psyche does little to serve me well.  I remind myself, it is spring; time to plant some seeds. . . .
"What is the ONE thing I can do . . . . ?"